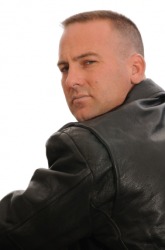 This style of men's hair cut is called a brush cut, buzz cut or crew cut.
Licensed from iStockPhoto
---
☆
a style of man's or boy's haircut in which the hair is cropped close to the head, but left bristly on top to look like a brush
Webster's New World College Dictionary
Copyright © 2010 by Wiley Publishing, Inc., Cleveland, Ohio.
Used by arrangement with John Wiley & Sons, Inc.
---
crew cut - Phrases/Idioms
A closely cropped haircut, usually for a male, as in
The boys all think crew cuts are cooler in summer
. This term presumably originated in the navy (
crew
referring to a ship's crew), where such a haircut was mandatory. [c. 1940]
The American Heritage® Dictionary of Idioms
by Christine Ammer. Copyright © 2003, 1997 by The Christine Ammer 1992 Trust. Published by Houghton Mifflin Harcourt Publishing Company. All rights reserved.