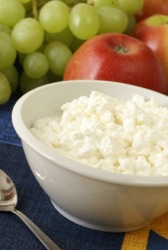 A bowl of cottage cheese, also called Dutch cheese.
---
cottage cheese
☆
a soft, white cheese made by straining and salting the curds of slightly soured skim milk and, often, adding cream
---
cottage cheese
noun
A soft white cheese made of strained and seasoned curds of skim milk. Also called pot cheese; also called regionally Dutch cheese, smearcase.
---
cottage cheese
---