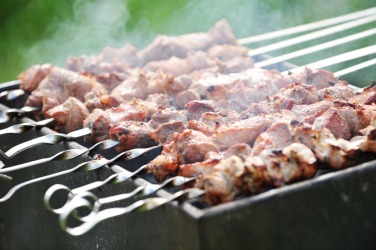 Heat conduction helps to cook this meat.
noun
The definition of conduction is the movement of something such as heat or electricity through a medium or passage.

An example of conduction is using a metal rod to roast marshmallows on an open fire and feeling the heat rise through the rod from the fire to your hand.
---
conduction
a conveying, as of liquid through a channel, esp. in plants

Physics

transmission of electricity, heat, etc. through a material
conductivity

Physiol.

the transmission of nerve impulses
Origin of conduction
Classical Latin
conductio
: see conduct
---
conduction
noun
The transmission or conveying of something through a medium or passage, especially the transmission of electric charge or heat through a conducting medium without perceptible motion of the medium itself.
---
conduction

Origin
From Old French conduction, from Latin conductio ("a bringing together").
---