coconut milk
coconut milk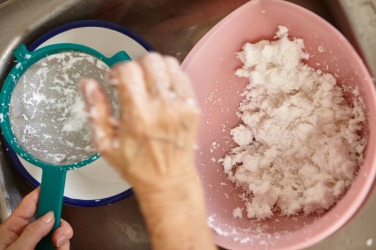 Extracting coconut milk.
noun
The definition of coconut milk is the thick liquid made by boiling coconut meat in hot water.

An example of coconut milk is the rich white liquid which is used in Asian and Indian sauces.
---
coconut milk
the sweet fluid occupying the hollow center of a coconut
a milky liquid obtained by pressing coconut flesh
---
coconut milk
noun
A milky fluid extracted from the flesh of the coconut, used in foods or as a beverage.
---
coconut-milk

Usage notes
Coconut milk is a distinct product from coconut water (sometimes called "coconut juice"), though in common parlance the two are often confused.
Like other plant milk, strictly speaking coconut "milk" is a misnomer, as it is not produced by lactation, though it has a milky (opaque, white) consistency.
---