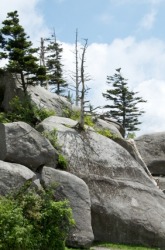 Boulders on Clingmans Dome.
---
Clingmans Dome
mountain on the Tenn.-N.C. border; highest peak of the Great Smoky Mountains: 6,642 ft (2,024 m)
Origin of Clingmans Dome
after United States senator from N.C., T. L.
Clingman
(1812-97)
---
Clingmans Dome
A mountain, 2,025 m (6,643 ft) high, in the Great Smoky Mountains on the Tennessee–North Carolina border. It is the highest elevation of the range and the highest point in Tennessee.
---