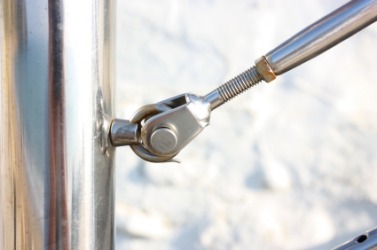 A stainless steel clevis that is part of a fence.
noun
The definition of a clevis is a U-shaped fastening device with two holes at the end for a pin or bolt to pass through.

An example of clevis is what is used to attach a trailer hitch to a vehicle.
---
clevis
a -shaped metal fitting with holes in the ends through which a pin or bolt is passed in order to attach one thing to another
Origin of clevis
ultimately akin to cleave

---
clevis
noun
A U-shaped metal piece with holes in each end through which a pin or bolt is run, used as a fastening device.
Origin of clevis
From
clevi
possibly of Scandinavian origin
Old Norse
klofi
cleft
; see
gleubh-
in Indo-European roots.
clevis
---
clevis

Origin
First attested in 1590s. Origin unknown; probably derived from the verb "to cleave". If so, the word ultimately may stem from Scandinavian: cf. Old Norse kljufa (to split).
---