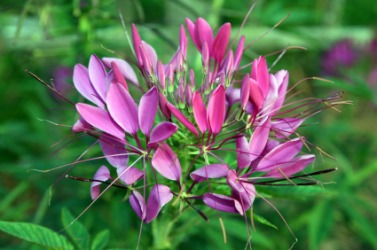 The purple flowers of the cleome plant also known as the spider flower.
---
cleome
noun
any of a large genus (Cleome) of mostly tropical plants of the caper family, with white, pink, yellow, green, or purple flowers having stalked petals and long stamens; spider flower
Origin of cleome
Modern Latin
---
cleome
noun
Any of various often strong-smelling plants of the genus Cleome, native chiefly to warm regions and including several ornamentals. Also called spider flower.
Origin of cleome
New Latin
Cleome
,
genus name
.
---
cleome
---