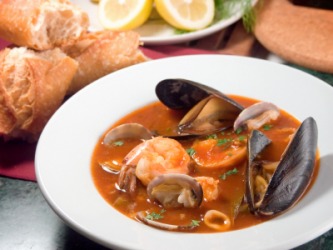 A bowl of cioppino.
---
cioppino
noun
a spicy stew of fish and various shellfish, containing tomatoes, onions, green pepper, red wine, garlic, etc.
---
cioppino
noun
pl.
ciop·pi·nos
A stew made of several kinds of fish and shellfish, tomatoes, and white wine.
Origin of cioppino
Italian, perhaps variant of northwest Italian
ciuppin
.
---
cioppino
---