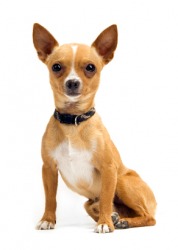 A brown and white Chihuahua.
noun
The definition of a chihuahua is a small dog originally from Mexico with pointed ears and short fur.

An example of a chihuahua is the dog owned by socialite, Paris Hilton.
---
Chihuahua
[alsoc-] any of a Mexican breed of very small dog with large, pointed ears
Origin of Chihuahua
after Chihuahua
state of N Mexico, on the U.S. border: 95,401 sq mi (247,088 sq km)
---
Chihuahua
A city of northern Mexico south of Ciudad Juárez. The capital of the state of Chihuahua, it is a major commercial center for the northern region of the country.x
noun
A dog of a very small breed developed in Mexico, probably from an indigenous breed, having erect pointed ears and a soft usually short-haired coat.
Origin of Chihuahua
After
Chihuahua
1
Chihuahua2
---
chihuahua

Noun
(plural chihuahuas)
Alternative capitalization of Chihuahua.
Proper noun
The capital city of the Mexican state of Chihuahua.
Origin
The origin of the name is not known for sure, but it is old, predating the Spanish, and is thought to derive from the Nahuatl Xicuahua ("dry, sandy place").
Origin
From the name of the above state of Mexico.
---