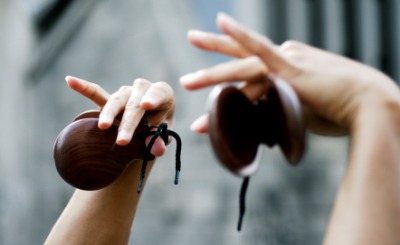 A woman using castanets.
---
castanets
plural noun
a pair of small, hollowed pieces of hard wood, ivory, etc., held in the hand by a connecting cord and clicked together with the fingers to beat time to music, esp. in Spanish dances
Origin of castanets
French
castagnette
(sing.) ; from Spanish
castañeta
, diminutive of
castaña
; from Classical Latin
castanea
, chestnut: so named from the shape
---
castanets
Noun
(uncountable)
A percussion instrument (idiophone) consisting of a pair of concave shells joined on one edge by a string, held in the hand and used to produce clicking sounds.
---