noun
The definition of call of nature is an idiom that means you need to urinate or defecate.

An example of hearing the call of nature is a feeling that you need to urinate.
YourDictionary definition and usage example. Copyright © 2013 by LoveToKnow Corp.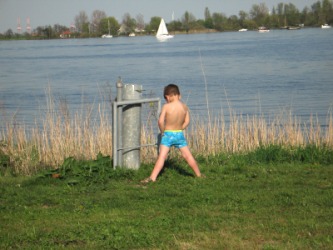 A little boy answers a call of nature.
Licensed from iStockPhoto
---
a need to defecate or urinate
Webster's New World College Dictionary
Copyright © 2010 by Wiley Publishing, Inc., Cleveland, Ohio.
Used by arrangement with John Wiley & Sons, Inc.
---
call of nature - Phrases/Idioms
Need to urinate or defecate, as in
He left to answer the call of nature
. This euphemism may be dying out. [Mid-1800s]
The American Heritage® Dictionary of Idioms
by Christine Ammer. Copyright © 2003, 1997 by The Christine Ammer 1992 Trust. Published by Houghton Mifflin Harcourt Publishing Company. All rights reserved.