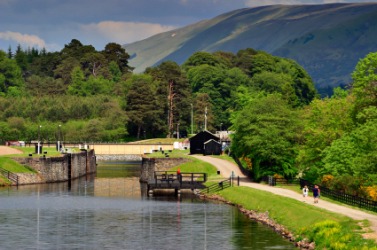 A picturesque view of the Caledonian Canal.
---
Caledonian Canal
canal in N Scotland, extending northeastward from the Atlantic to Moray Firth: c. 60 mi (97 km)
---
Caledonian Canal
A waterway, about 100 km (60 mi) long, cutting diagonally across northern Scotland from Loch Linnhe on the southwest to Moray Firth on the northeast. Opened in 1822, it is used today mainly by pleasure craft.
---