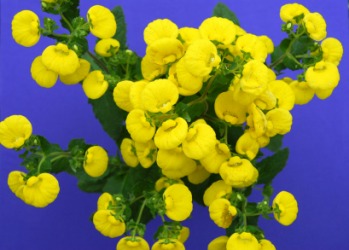 Bright yellow flowers of the calceolaria plant.
---
calceolaria definition by Webster's New World
noun
any of a large genus (Calceolaria) of South American plants of the figwort family, bearing colorful, slipper-shaped flowers
Origin: Modern Latin ; from Classical Latin calceolarius, shoemaker ; from calceolus, diminutive of calceus: see calceiform
Webster's New World College Dictionary Copyright © 2010 by Wiley Publishing, Inc., Cleveland, Ohio. Used by arrangement with John Wiley & Sons, Inc.
---
calceolaria definition by American Heritage Dictionary
noun
Any of various plants of the genus Calceolaria native from Mexico to South America and widely cultivated for their showy, speckled, slipper-shaped flowers. Also called slipper flower, slipperwort.
Origin: New Latin Calceolāria, genus name, from Latin calceolus, small shoe; see calceolate.