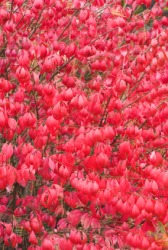 A close up of the brilliant leaves of the burning bush.
---
burning bush
☆ any of several American shrubs (genus Euonymus) of the staff-tree family, having brilliant red fruits or leaves
gas plant
Origin of burning bush
after the Biblical burning bush: example; Exodus (Bible) 3:2
---
burning bush
also burn·ing-bush
noun
Any of several shrubs or shrubby plants, such as the summer cypress and certain species of euonymus, having foliage that turns bright red in autumn.
See gas plant.
---
burning bush
Noun
(plural burning bushes)
An ornamental shrub (Euonymus atropurpureus) that bears a red berry.
---