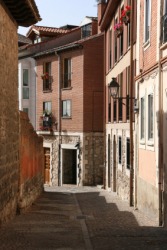 A narrow street in the city of Burgos.
---
Burgos
city in NC Spain: pop. 160,000
---
Burgos
A city of northern Spain on a high plateau south-southwest of Bilbao. Founded c. 884, it was the capital of the kingdom of Castile in the 11th century and of Francisco Franco's regime during the Spanish Civil War (1936–1939).
---