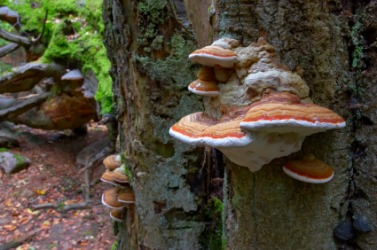 Bracket fungus growing on an old tree.
---
bracket fungus
any of various fleshy or woody basidiomycetous fungi having fruiting bodies growing like shelves from the trunk or branches of trees
---
bracket fungus
noun
Any of various fungi that form shelflike growths on tree trunks and wood structures. Also called shelf fungus.
bracket fungus
red-belted polypore
Fomitopsis pinicola
---
bracket fungus
---