verb
The definition of border upon means being near an edge or border.

An example of border upon is being on the outside rim of a garden bed.
YourDictionary definition and usage example. Copyright © 2013 by LoveToKnow Corp.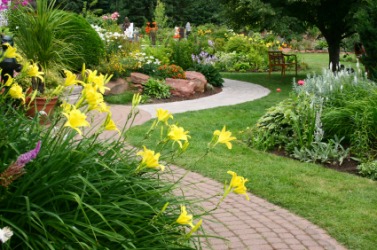 A walkway borders upon this garden.
Licensed from iStockPhoto
---
border upon
Variant of border
noun
an edge or a part near an edge; margin; side
a dividing line between two countries, states, etc. or the land along it; frontier
a narrow strip, often ornamental, along an edge; fringe; edging
an ornamental strip of flowers or shrubs along the edge of a garden, walk, etc.
Origin: Middle English and amp; Old French bordure ; from border, to border ; from Frankish an unverified form bord, margin: see board
transitive verb
to provide with a border
to extend along the edge of; bound
adjective
of, forming, or near a border