noun
The definition of boot camp is a military fitness and training camp.

An example of boot camp is the first eight weeks in a soldier's military career, their basic training.

Boot camp is defined as a type of exercise program based on military-style fitness training.

An example of boot camp is an early morning class that has students doing lots of running and push ups.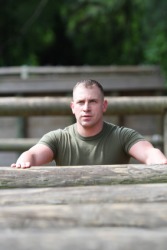 A soldier at boot camp.
---
boot camp definition by Webster's New World
☆
a station where Navy or Marine recruits receive basic training
Origin: origin, originally , bootneck, a Marine, in reference to the leather collar of the uniform; later contr. in use for a Marine recruit, then for a trainee more generally
Webster's New World College Dictionary Copyright © 2010 by Wiley Publishing, Inc., Cleveland, Ohio. Used by arrangement with John Wiley & Sons, Inc.
---
boot camp definition by American Heritage Dictionary
noun
A training camp for military recruits.
A correctional facility that uses the training techniques applied to military recruits to teach usually youthful offenders socially acceptable patterns of behavior.
The American Heritage® Dictionary of the English Language, 4th edition Copyright © 2010 by Houghton Mifflin Harcourt Publishing Company. Published by Houghton Mifflin Harcourt Publishing Company. All rights reserved.
---
boot camp - Computer Definition
Software from Apple that enables an Intel-based Mac to host the Windows operating system. Boot Camp divides the hard disk into Windows and Mac partitions, installs the necessary drivers and creates a "dual boot" environment. Introduced in 2006, Boot Camp does not provide a virtual machine capability such as found in Parallels Desktop and VMware Fusion (see Mactel). Windows and Mac applications are not run simultaneously. At startup, the user must choose which OS to use and must reboot to switch to the other environment. See boot and dual boot.