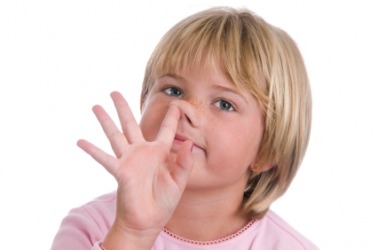 This kid is going after her boogers.
noun
The definition of a booger is slang for a piece of dried mucus from your nose.

When you pick dried mucus out of your nose, this is an example of a booger.
---
booger
a gob or dried piece of nasal mucus
any person or thing, esp. one regarded as troublesome, unpleasant, etc.: often used humorously and affectionately
---
booger
noun
A boogeyman.
Slang A piece of dried or semisolid nasal mucus.
Slang An item that is unnamed or unnameable: "It's … like a pop-top … one of those sharp little boogers you pull off the beer cans" ( Hunter S. Thompson )
Slang

a. A worthless, despicable person.

b. A person; a fellow.
Origin of booger
Origin unknown
---
booger

Origin
Alteration of the English dialectal words buggard, boggart (bug + ard) or boggard
Noun
(plural boogers)
(surfing, slang, mildly derogatory) bodyboarder

Watch the local boogers charge it!
Origin
From boogie board.
---