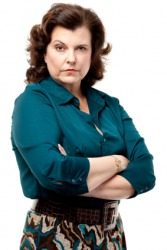 This woman's body language suggests she is angry.
noun
The definition of body language are non-verbal cues your body movements and facial expressions give off that help you communicate.

When you have your arms crossed and folded in tight, this is an example of body language that may indicate you are tense, nervous or angry.
---
body language
gestures, unconscious bodily movements, facial expressions, etc. which serve as nonverbal communication or as accompaniments to speech
---
body language
noun
The gestures, postures, and facial expressions by which a person manifests various physical, mental, or emotional states and communicates nonverbally with others.
---
body-language

---