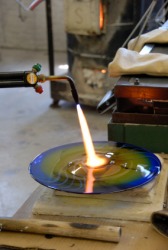 A glass artist using a blowtorch.
---
blowtorch
☆
noun
a small, liquid-fuel torch that shoots out a hot flame intensified by pressurized air: it is used to melt metal, remove old paint, etc.
a similar device using acetylene, propane, etc. as its fuel
---
blowtorch
noun
A portable burner for mixing gas and oxygen to produce a very hot flame, used for soldering, welding, and glass blowing.
---
blowtorch
Noun
(plural blowtorches)
A tool which projects a controlled stream of a highly flammable gas over a spark in order to produce a controlled flame.
Verb
(third-person singular simple present blowtorches, present participle blowtorching, simple past and past participle blowtorched)
To apply a blowtorch to something.
---