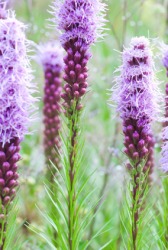 The blazing star, or gay feather, plant.
---
blazing star
☆ any of a genus (Liatris) of American wildflowers of the composite family, with showy, usually lavender flowers borne on wandlike spikes
☆ any of various plants, esp. of the lily family, having showy flower clusters
---
blazing star
noun
Any of various North American plants of the genus Liatris in the composite family, having small discoid flower heads grouped in a dense raceme or panicle. Also called gayfeather.
A rhizomatous dioecious herb (Chamaelirium luteum) having long racemes of small white flowers. Also called devil's bit, fairywand.
A biennial plant (Mentzelia laevicaulis) of western North America, having large, star-shaped, pale-yellow flowers.
blazing star
dotted blazing star
Liatris punctata
---
blazing star
Noun
(plural blazing stars)
A comet.
A brilliant centre of attraction.
(botany) Any of various plants, including Chamaelirium luteum of the lily family; Liatris squarrosa; and Aletris farinosa, also called colicroot and star grass.
---