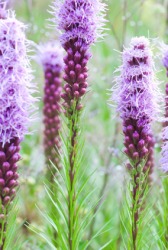 The blazing star, or gay feather, plant.
---
blazing star definition by Webster's New World
☆ any of a genus (Liatris) of American wildflowers of the composite family, with showy, usually lavender flowers borne on wandlike spikes
☆ any of various plants, esp. of the lily family, having showy flower clusters
Webster's New World College Dictionary Copyright © 2010 by Wiley Publishing, Inc., Cleveland, Ohio. Used by arrangement with John Wiley & Sons, Inc.
---
blazing star definition by American Heritage Dictionary
noun
A rhizomatous dioecious herb (Chamaelirium luteum) in the lily family, having long racemes of small flowers. Also called devil's bit.
Any of various North American plants of the genus Liatris in the composite family, having small discoid flower heads grouped in a dense raceme or panicle. Also called button snakeroot, gay feather.
A biennial plant (Mentzelia laevicaulis) of western North America, having large, star-shaped, pale-yellow flowers.