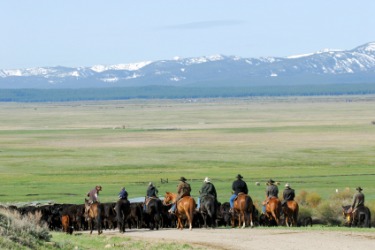 Riders herding cattle with the Bitterroot Range in the background.
---
Bitterroot Range
range of the Rocky Mountains, along the Ida.-Mont. border: highest peak, c. 11,000 ft (3,353 m)
Origin of Bitterroot Range
after bitterroot, found especially in the foothills
---
Bitterroot Range
A rugged chain of the Rocky Mountains along the Idaho-Montana border, rising to over 3,460 m (11,360 ft). The Bitterroot River rises in the central part of the range and flows about 135 km (85 mi) northward to the Clark Fork River near Missoula, Montana.
---