noun
The definition of a bird's-eye view is an overall view, as if the viewer were in the sky.

An example of a bird's-eye view is the view of a plain from the top of a mountain.
YourDictionary definition and usage example. Copyright © 2013 by LoveToKnow Corp.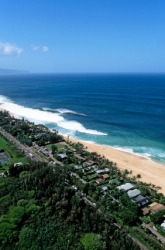 A bird's-eye view of a beach.
Licensed from iStockPhoto
---
a view or perspective from above or at a distance
an overall, but cursory, view
Webster's New World College Dictionary
Copyright © 2010 by Wiley Publishing, Inc., Cleveland, Ohio.
Used by arrangement with John Wiley & Sons, Inc.
---
bird's-eye view - Phrases/Idioms
An overview, as in
This balcony gives us a bird's eye view of the town
, or
This course gives you a bird's eye view of history—from Eolithic man to the Gulf War in one semester
. This expression can be used literally, for a panoramic view such as a bird might see, as well as figuratively. [c. 1600]
The American Heritage® Dictionary of Idioms
by Christine Ammer. Copyright © 2003, 1997 by The Christine Ammer 1992 Trust. Published by Houghton Mifflin Harcourt Publishing Company. All rights reserved.