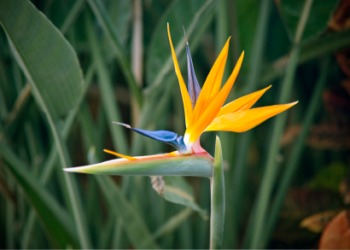 The bird of paradise plant.
---
bird of paradise definition by Webster's New World
any of a family (Paradisaeidae) of brightly colored passerine birds found in and near New Guinea
any of several tropical plants (genus Strelitzia) of the banana family, native to Africa, having orange and blue flowers protruding from a green spathe in a form that resembles a bird in flight
Webster's New World College Dictionary Copyright © 2010 by Wiley Publishing, Inc., Cleveland, Ohio. Used by arrangement with John Wiley & Sons, Inc.
---
bird of paradise definition by American Heritage Dictionary
noun
pl.
birds of paradise
Any of various birds of the family Paradisaeidae, native to New Guinea and adjacent islands, usually having brilliant plumage and long tail feathers in the male.
Any of several southern African herbs of the genus Strelitzia, especially S. reginae, having orange and blue flowers grouped above a boat-shaped bract.