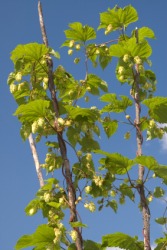 The bine of a hop plant.
noun
The definition of bine is a flexible climbing stem of a plant.

An example of a bine is the stem of the humulus or hop plant.
---
bine
any climbing, twining stem, as of the hop
a plant having such stems
Origin of bine
dialect, dialectal form of bind
---
bine
noun
The flexible twining or climbing stem of certain plants, such as the hop, woodbine, or bindweed.
Origin of bine
Alteration of
bind
vine
---
bine

---