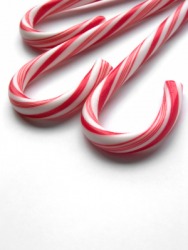 These candy canes are bent.
adjective
The definition of bent is someone who is determined to take a specific course of action.

An example of bent on something is someone who is determined to go to a specific college.

Bent is defined as something that is not straight.

An example of bent is a candy cane.
---
bent
made curved or crooked; not straight
strongly inclined or determined: with on: bent on going
set in a course; bound: westward bent

Slang

dishonest; crooked
eccentric; odd
an inclination; tendency
a natural leaning or tendency; propensity: a bent for music, a criminal bent
a framework transverse to the length of a structure, for supporting lateral as well as vertical loads
bent out of shape
Slang
very angry, upset, or agitated
to (or at) the top of one's bent
to (or at) the limit of one's capacity or ability
any of a genus (Agrostis) of dense, low-growing perennial grasses that spread by putting out runners and are often used for lawns and golf greens
the stiff flower stalk of certain grasses

Chiefly Brit., Now Dial.

a heath; moor
Origin of bent
Middle English from Old English
beonot,
bent, a rush from West Germanic an unverified form
binut
from source German
binse
---
bent
verb
Past tense and past participle of
bend
1
adjective
Altered from an originally straight or even condition: picked up pieces of bent wire.
Determined to take a course of action: I was bent on going to the concert.
Chiefly British Corrupt; venal.
noun
A tendency, disposition, or inclination: "The natural bent of my mind was to science" ( Thomas Paine )
A transverse structural member or framework that is used for strengthening a bridge or trestle.
noun
Bentgrass.
The stiff stalk of various grasses.
An area of grassland unbounded by hedges or fences.
Origin of bent
Middle English
from
Old English
beonet
(
attested only in place names
)
akin to
German
Binse
rush
---
bent

Verb
simple past tense and past participle of bend
Adjective
(comparative more bent, superlative most bent)
(Of something that is usually straight) folded, dented
(derogatory, colloquial, chiefly UK) Homosexual.
Determined or insistent.

He was bent on going to Texas, but not even he could say why.
They were bent on mischief.

Of a person, leading a life of crime.
(slang, soccer) inaccurate at shooting

That shot was so bent it left the pitch.

(colloquial, chiefly US) Suffering from the bends
Noun
(plural bents)
An inclination or talent.

He had a natural bent for painting.

A predisposition to act or react in a particular way.

His mind was of a technical bent.

The state of being curved, crooked, or inclined from a straight line; flexure; curvity.

the bent of a bow

Particular direction or tendency; flexion; course.
(carpentry) A transverse frame of a framed structure.
Tension; force of acting; energy; impetus.
Origin
Origin uncertain. Apparently representing Old English beonet- (attested only in place-names and personal names), cognate with Old High German binuz (modern German Binse ("rush, reed")).
---