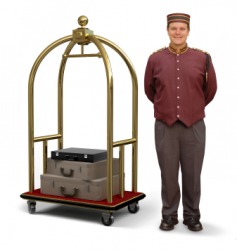 A bellboy, or bellhop, with a luggage cart.
noun
The definition of a bellboy, also called a bellhop, is a porter or person in hotels who assists customers with their luggage and with other basic errands and tasks.

A person who takes your luggage up to your room for you in a hotel is an example of a bellboy.
---
bellboy
---
bellboy
---
bellboy

---