phrase
The definition of behind the wheel is an expression that means you are driving or in control of some kind of a vehicle, usually a car.

An example of behind the wheel is a person who is driving his car.
YourDictionary definition and usage example. Copyright © 2013 by LoveToKnow Corp.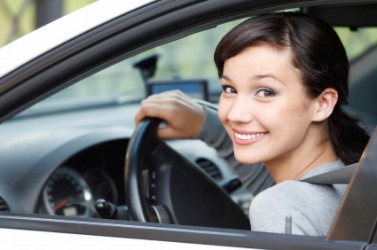 A young woman behind the wheel.
Licensed from iStockPhoto
---
behind the wheel
Variant of wheel
noun
a solid or partly solid disk, or a circular frame connected by spokes to a central hub, capable of turning on a central axis and used as to move vehicles or transmit power in machinery
anything like a wheel in shape, movement, action, etc., as a fireworks device that revolves while burning
a device or apparatus of which the principal element is a wheel or wheels; specif.,

in the Middle Ages, an instrument of torture consisting of a circular frame on which the victim's limbs were painfully stretched
a wheel with projecting handles for controlling the rudder of a ship
paddle wheel, potter's wheel, spinning wheel, steering wheel, etc.
any of various rotating disks used for gambling: a roulette wheel
☆

Informal

a bicycle
☆

Slang

an automobile

the moving, propelling, or controlling forces or agencies: the wheels of progress
a turning about; circular, rotating, or revolving movement; specif., a turning movement as of troops or ships in line, with one end of the line as the pivot; also, any pivoting movement like this, as of dancers
☆

Slang

an important, influential, or authoritative person

Archaic

the refrain of a song
Origin: Middle English whele from Old English hweol, earlier hweogol from Indo-European an unverified form kwekwlo-, wheel (from source Glassical Greek kyklos, a circle) from base an unverified form kwel-, to turn, be around, dwell from source Glassical Greek telos, turning point, end, polos, axis, Classical Latin colere, to till, dwell, German hals, neck
transitive verb
to move or roll along (something equipped with wheels): to wheel a baby buggy
to transport in a wheeled vehicle

to cause to turn, revolve, or rotate
to furnish with a wheel or wheels
intransitive verb
to turn on or as on an axis; pivot, rotate, revolve, etc.
to reverse one's course of action, movement, opinion, attitude, etc.: often with about
to turn in a swooping, circular motion: said of birds
to move or roll along on or as on wheels