beauty sleep
beauty sleep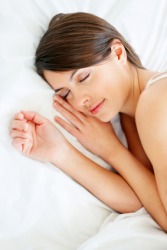 A woman gets her beauty sleep.
noun
Beauty sleep is defined as sleep before midnight, or any extra resting time.

An example of beauty sleep is falling asleep at 9 p.m.
---
beauty sleep
any extra sleep regarded as necessary to sustain a healthy, attractive appearance: typically a humorous usage
---
beauty sleep
noun
A period of regular restful sleep, especially when attained by going to bed early. Also called beauty rest .
Origin of beauty sleep
From the belief that such sleep helps preserve an attractive and youthful appearance
---
beauty-sleep

Noun
(uncountable)
(idiomatic) Sleep before midnight, on the belief that early sleep hours conduce to health and beauty.
Noun
(uncountable)
Alternative spelling of beauty sleep.
---