barkeeper

bar·keep·er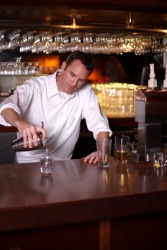 A bartender pouring a drink.
noun
The definition of a barkeeper is a person who mixes and serves alcoholic drinks at an establishment that sells alcoholic drinks.

The manager of a tavern is an example of a barkeeper.
---
barkeeper
an owner of a bar where alcoholic drinks are sold
a bartender
---
barkeeper
also bar·keep
noun
A person who owns or operates a bar for the sale of alcoholic beverages.
See bartender.
---
barkeeper

---