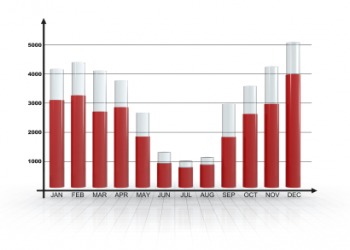 A bar chart or bar graph.
noun
The definition of a bar graph is a chart that uses the lengths of parallel bars to represent the relationship between various data or values.

A diagram that has rectangles of various lengths that correspond to numbers is an example of a bar graph.
---
bar graph
a graph in which the lengths of parallel bars are used to compare statistical frequencies, quantities, etc.
---
bar graph
noun
A graph consisting of parallel, usually vertical bars or rectangles with lengths proportional to the frequency with which specified quantities occur in a set of data. Also called bar chart .
bar graph
the average annual rainfall of several US cities
---