noun
The definition of a banty hen is a miniature hen which is approximately 1/5 the size of the regular breed.

An example of a banty hen is a pet hen.
YourDictionary definition and usage example. Copyright © 2013 by LoveToKnow Corp.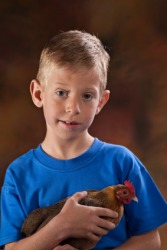 A boy holds a banty hen.
Licensed from iStockPhoto
---
banty hen
Variant of banty
☆
noun
pl.
banties
bantam (sense )
a short or small, often aggressive person
adjective
Informal
short or small, and, often, aggressive