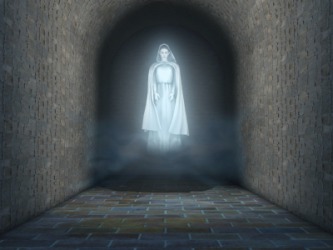 The image of a banshee.
noun
The definition of banshee means a mythological female spirit who cries to warn of an upcoming death.

An example of a banshee is a ghost who enters a house wailing as a warning.
---
banshee
or ban′shie
Celt. Folklore
a female spirit believed to wail outside a house as a warning that a death will occur soon in the family
Origin of banshee
Irish
bean sidhe
from
bean,
woman (see gyno-) +
sith
, fairy
---
banshee
also ban·shie
noun
A female spirit in Gaelic folklore believed to presage, by wailing, a death in a family.
Origin of banshee
Irish Gaelic
bean sídhe
woman of the fairies, banshee
bean
woman
(
from
Old Irish
ben
; see
gwen-
in Indo-European roots.)
sídhe
fairy
(
from
Old Irish
síde
) (
genitive of
síd
fairy mound
; see
sed-
in Indo-European roots.)
---
banshee

---