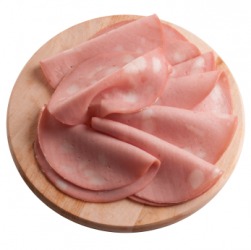 A plate of baloney.
noun
The definition of baloney is another spelling for the meat bologna.

An example of baloney is a meat sausage that is sliced in thin circular slices and used on sandwiches.

Baloney is defined as silliness or foolishness.

An example of something that is baloney are children playing pranks on each other.
---
baloney
bologna sausage

Slang

foolish or exaggerated talk or behavior; nonsense
Origin of baloney
altered from
bologna,
sausage
---
baloney
also bo·lo·ney Slang
noun
Nonsense.
interjection
Used to express disagreement or exasperation.
Origin of baloney
Alteration
(influenced by
baloney
1
)of
bullshit
---
baloney

Noun
(uncountable)
(uncountable, chiefly US, slang) Nonsense.
Usage notes
Sometimes used in rhyme phony baloney.
---