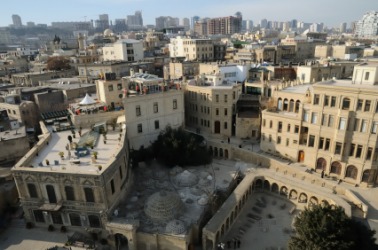 A view of the old town of Baku.
---
Baku
seaport & capital of Azerbaijan, on the Caspian Sea: pop. 1,700,000
---
Baku
The capital of Azerbaijan on the western shore of the Caspian Sea. Frequently under Persian rule, the city was annexed by Russia in 1806. It has been a center of oil production since the 1870s. In 1990 it was the scene of fierce fighting between Soviet forces and secessionist rebels.
---