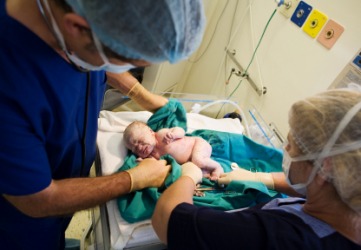 Doctors checking a newborn to determine its Apgar score.
---
Apgar score
a quantitative rating test with a maximum of ten used to measure the vital signs of a newborn a minute or so after birth: a score greater than seven signifies good health
---
Apgar score
noun
A system of assessing the general physical condition of a newborn infant based on a rating of 0, 1, or 2 for five criteria: heart rate, respiration, muscle tone, skin color, and response to stimuli. The five scores are added together, with a perfect score being 10.
Origin of Apgar score
After Virginia
Apgar
,
(1909–1974), American physician
.
---
Apgar score
---