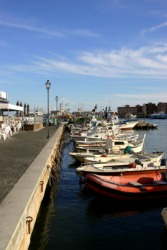 The harbor in Anzio.
---
Anzio
port on the W coast of Italy, south of Rome: pop. 31,000: site of Allied beachhead (Jan., 1944) in the invasion of Italy in WWII
---
Anzio
A town of central Italy on the Tyrrhenian Sea south-southeast of Rome. In World War II Allied troops landed at Anzio on January 22, 1944.
---