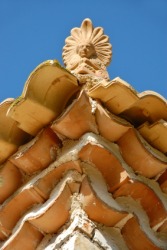 An antifix ornament on a roof.
---
antefix definition by Webster's New World
noun
pl.
antefixes
a small decorative fixture put at the eaves of a roof of a classic building to hide the ends of the tiles
Origin: Classical Latin antefixus: see ante- and amp; fix
Webster's New World College Dictionary Copyright © 2010 by Wiley Publishing, Inc., Cleveland, Ohio. Used by arrangement with John Wiley & Sons, Inc.
---
antefix definition by American Heritage Dictionary
noun
pl.
an·te·fix·es
or
an·te·fix·a
An upright ornament along the eaves of a tiled roof designed to conceal the joints between the rows of tiles.
Origin: From Latin antefīxa, pl. of antefīxum, something fastened in front, from antefīxus, fastened in front : ante-, ante- + fīxus, fastened, past participle of fīgere, to fasten; see dhīgw- in Indo-European roots.
Related Forms:
antefix