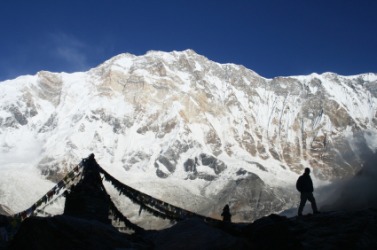 South face of the Annapurna ridge.
---
Annapurna
massif of the Himalayas, in central Nepal: highest peak, c. 26,500 ft (8,077 m)
---
Annapurna
A massif of the Himalaya Mountains in north-central Nepal. It rises to 8,091 m (26,545 ft) at Annapurna I in the west. Annapurna II, in the east, is 7,937 m (26,040 ft) high.
---