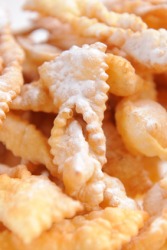 Tasty angel wings.
noun
The definition of angel wings are pastries made out of dough, twisted into ribbons and deep-fried.

An example of angel wings are popular treats eaten right before Lent.

Angel wings are defined as a disease in geese and ducks where the last joint of the wing is twisted.

An example of angel wings is when duck feathers point outward instead of lying flat against the animal's body.
---
angel-wings

Noun
(plural only)
A sweet, crisp pastry in the form of twisted ribbons dusted with sugar
---