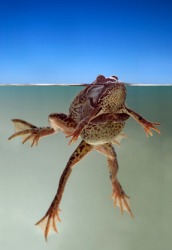 Amplexus of frogs.
---
amplexus definition by Webster's New World
noun
pl.
amplexus
the mating clasp of the male frog or toad: he clings to the back of the female and fertilizes her eggs as she ejects them into the water
Webster's New World College Dictionary Copyright © 2010 by Wiley Publishing, Inc., Cleveland, Ohio. Used by arrangement with John Wiley & Sons, Inc.
---
amplexus definition by American Heritage Dictionary
noun
pl.
amplexus
amplexus
or
am·plex·us·es
The copulatory embrace of frogs and toads, during which the male fertilizes the eggs that are released by the female.
Origin: Latin amplexus, an embracing, from past participle of amplectī, to embrace : am-, ambi-, around; see ambi- + plectere, to twine; see plek- in Indo-European roots.
amplexus
Variant of amplexus
noun
pl.
amplexus
the mating clasp of the male frog or toad: he clings to the back of the female and fertilizes her eggs as she ejects them into the water