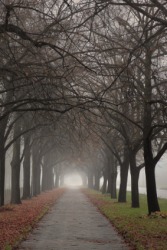 This misty path is an example of an allée.
---
allée
noun
a walk or passage, esp. one between two rows of evenly planted trees
Origin of allée
French ; from Old French
alee
: see alley
---
allée
Noun
(plural allées)
An alley in a formal garden or park, bordered by trees or bushes.
See also:
allee
See also:
allee
---