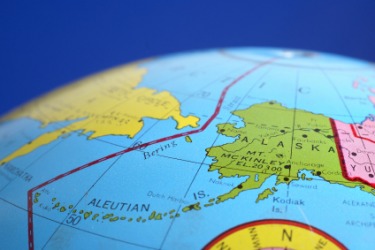 A closeup view of a globe showing the state of Alaska.
---
Alaska
state of the U.S. in NW North America, separated from Asia by the Bering Strait: land bought from Russia in 1867: admitted, 1959; 571,951 sq mi (1,481,348 sq km); pop. 627,000; cap. Juneau: abbrev. AK or Alas

inlet of the Pacific in the S coast of Alaska between the Alaska Peninsula and the Alexander Archipelago
Origin of Alaska
probably via Russian
Aliaska
; from Aleut
Alasxa
, name of the Alaska Peninsula
---
Alaska
Abbr. AK or Alas.
A state of the United States in extreme northwest North America including the Aleutian Islands and Alexander Archipelago and separated from the other mainland states by Canada. Purchased from Russia in 1867, Alaska received an influx of settlers during the Alaskan gold rush of the 1890s and was admitted as the 49th state in 1959. It includes a vast area of Arctic wilderness and is home to a large population of Alaska Natives. Juneau is the capital and Anchorage the largest city.
Related Forms:
---