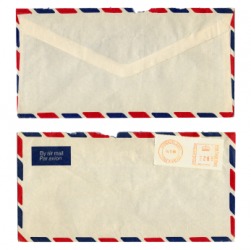 An aerogramme used to send airmail to foreign countries.
---
airmail
noun
mail transported by air; esp., in the U.S., mail going overseas by air
a system for transporting mail by air: send it by airmail
adjective
of or used for mail sent by air: an airmail stamp
transitive verb
to send (mail) by air
adverb
by airmail: send the letter airmail
---
airmail
noun
The system of conveying mail by aircraft.
Mail conveyed or to be conveyed by aircraft.
transitive verb
air·mailed
,
air·mail·ing
,
air·mails
To send (a letter, for example) by air.
adjective
Of, relating to, or for use with air mail.
---
airmail
Adjective
Of, or relating to such a system.
---