aerie

aer·ie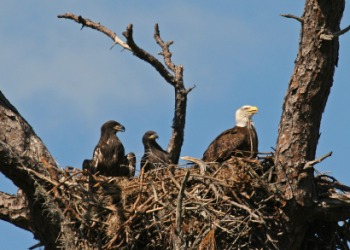 Young aeries, or baby eagles in their nest with mother eagle.
noun
The definition of an aerie is a nest built in a high place such as by a bird of prey.

A nest built high on a cliff by a vulture is an example of an aerie.
---
aerie
the nest of an eagle or other bird of prey that builds in a high place
a house or stronghold on a high place

Obs.

the young of an eagle, hawk, etc., in the nest
Origin of aerie
Middle English
eire, aire
from Old French
aire
from Medieval Latin
aeria
, area, probably ultimately from Classical Latin
ager
, field (see acre), but spelling, spelled and meaning influenced, influence by Classical Latin
aer
, air and Middle English
ei
, egg
---
aerie
or aer·y also ey·rie or ey·ry
noun
pl.
aer·ies,
also
ey·ries
The nest of a bird, such as an eagle, built on a cliff or other high place.
A house or stronghold perched on a height.
Origin of aerie
Medieval Latin
aeria
from
Old French
aire
aerie, origin, family
(
probably influenced by
Latin
ārea
open space, threshing floor
) (
and
āerius
aerial
)
from
Latin
ager
field
; see
agro-
in Indo-European roots.
aerie
osprey nest
---
aerie

Noun
(plural aeries)
Alternative form of eyrie.
A Local chapter of the Fraternal Order of Eagles.
---